All WEATHER ALUMINUM WINDOWS
For almost 50 years All Weather has hand crafted exceptional custom aluminum windows & doors. Utilizing the highest quality materials and applying the superior workmanship of true artisans, we have breathed life into thousands of building projects up and down the entire west coast and beyond.
Over the decades, All Weather's ability to provide creative solutions to challenging projects has been the company's cornerstone and continues to set All Weather apart from our competition. In fact, that is our primary purpose . . . to offer custom products for our clientele, not to compete with mass quantity producers.
PRODUCT COMPARISON – WINDOWS
PRODUCT COMPARISON – DOORS
SERIES 8000 SLIDING DOORS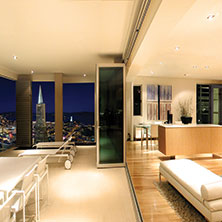 SERIES 9100 BI-FOLD DOORS
SERIES 8100 SLIDING DOORS