Fullerton Replacement Doors
Are you ready for replacement doors for your home?
All American Door only utilizes the top industry supplied French doors, interior doors, entry doors and all you door products of top manufacturers including Milgard, Escon, La Cantina and Simonton. All Fullerton replacement doors include manufacturer warranties and our industry standard 5-year warranty is based on satisfaction guaranteed.
Our expert staff will treat your home with the same level of care they would give their own from start to finish. We understand your home is your greatest investment and do everything in our power to keep you going in the right direction during your home improvement project.
Are you ready to consider Fullerton replacement doors for your home?Call us for your free in-home estimate at 714-680-8999
French Sliding Doors
Get the space-saving convenience of a sliding door with all the traditional beauty of a French patio door.French-style sliding patio doors have wider stiles and rails, which makes them an appropriate choice for traditional architectural styles. French-style patio doors operate on a track and require virtually no interior or exterior space for opening.
Essence™ Series | Tuscany® Series | Montecito® Series | Ultra™ Series | WoodClad™ Series
French In-Swing
Enjoy the traditional beauty of a real French door. French doors are typically used wherever you want to clearly define interior and exterior spaces while still providing a grand view. When deciding to use an in-swing French patio door, it is important to ensure there is enough room for the doors to swing in without hitting walls or furniture.
Essence™ Series | Tuscany® Series | Ultra™ Series | WoodClad™ Series
Moving Glass Wall Systems
Create a vibrant mural of the outdoors on your wall. Large glass panels offer sweeping outdoor views, flooding the room with natural light and fresh air. Aspirational yet realistic, these moving glass walls seamlessly transition between dreams and reality.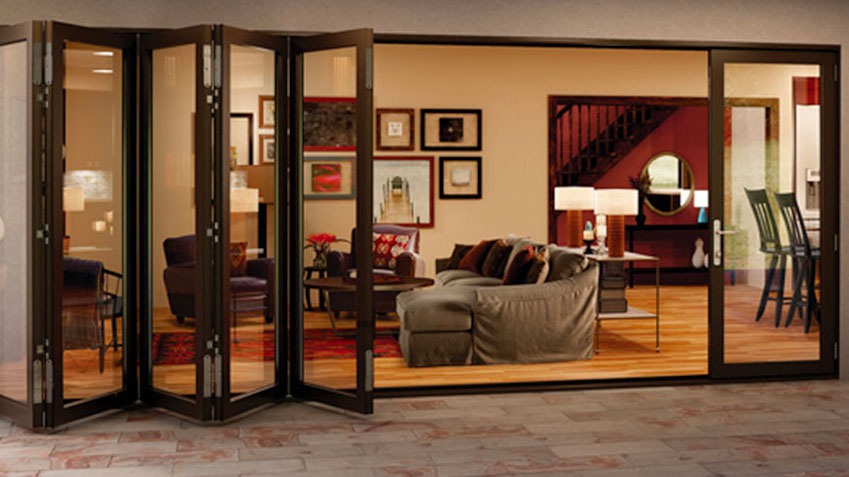 Designed to perfectly complement the rich, warm wood interiors of Essence windows, the new Essence Series sliding patio door is built with solid wood and a durable fiberglass exterior. Sliding Patio Door with a solid wood interior and durable fiberglass exterior.
Step inside to a more comfortable home with Tuscany Series vinyl patio doors. Whether you are looking for elegant French Doors or Sliding Doors, there is a Tuscany Series option for you. Customize everything from glass to grids to reflect your taste.
Elevate your home with Moving Glass Wall Systems, large panels of glass bring the outside, revering nature as the epitome of the aesthetic. Available in 12 standard sizes, you can bring a touch of luxury to any home.